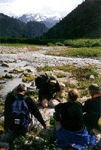 w Our first lesson in tracking. Scott was showing us both black bear and mountain goat tracks.
The Noble Lady, a steel hulled boat, shoved nose first up into the rocky shore where we formed a "fire line" and off loaded all of the gear and kayaks. It was a warm and sunny day and the perfect start to a great adventure.
Scott Leslie was the leader. An early thirties, handsome, knowledgeable, guy with wisdom that far exceeded his young age. He knew the wilderness, cooking, and how to handle people. Maureen "Mo" D'Armand was the next in command. She was a sweet, young beauty, with a constant smile, that could melt the hearts of boys and men and probably kick most Marine's butts and make them yell uncle. We had the added bonus of another guide that joined the group. Carol was not really working as a true guide this trip but offered extra wilderness experience to the group as well as another strong paddle.
As we unpacked and setup our first camp Scott and Mo began to fill our heads with interesting facts, helpful hints, and dos and don'ts of wilderness travel. For some members of the group tonight's camp was the first time they had ever even set up a tent in their whole lives. We were taught about living in the wilderness and living together.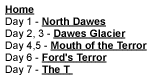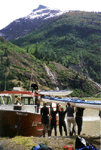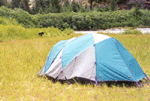 Look, it's Yoggie. Quick hide the picnic baskets.