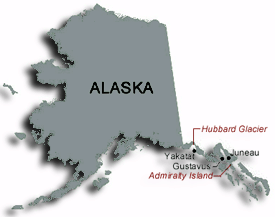 "I diligently trained for the trip by watching only the Discovery Channel and drinking "light" beer." - John Wall
The first 3 parts of our trip were organized tours with "Alaska Discovery." They were amazing. I would highly recommend them to anyone that wants to truly experience the real Alaska. There were 10 people on each tour plus 2 guides. The guests ranged from 12 years old to 65, 5 different nationalities, and all levels of kayaking experience. Everyone was fun, interesting, and added to the experience. Many have become friends that we will continue to keep in contact. The guides are well educated, helpful, great cooks, and very Eco sensitive.


A bike I borrowed from Alaska
Discovery near Gustavus

"Out-the-road" north of Juneau
Our guides did all of the cooking but we all shared in setting up tents, carrying kayaks and gear, washing dishes, etc. They furnished all of the tents, sleeping bags, Thermorest air-mattress, boots,
raingear, bug nets, food, cooking equipment, kayaks, air and boat transportation, etc. It was remarkably well organized. We roughed it! BUT ate like kings. We had things like huge fresh halibut steaks, fresh fruit and vegetables, fresh garden salad, rolls, cheesecake with strawberries, brie cheese and smoked salmon, and wine - Fried potatoes, fresh baked cinnamon rolls, pancakes with pecans, with coffee, tea, hot chocolate, and cider. There was always lots of food with each meal. Plus, we were given a personal snack bag for each leg of the trip filled with granola bars, tootsie pops, candy bars, etc. Each night we had to put all of the food and "smelly stuff" (tooth paste, deodorant, medications, etc.) into anti-bear containers and store them away from where were sleeping.
FYI - All of our guides were very good but Peggy Wilcox was the best! She was knowledgeable, smart, funny, and within the first day Patti and I felt like she was a life-long friend.
As Peggy said, with a slight grin, "Everything in Alaska is bigger than Rhode Island."
All photographs, maps, and descriptions are copyright
Compass Multimedia Productions
Other pages of our Alaska Adventure
Alaska | Bears | Glaciers | Whales
Other portions of my web site
Home | Travel | Genealogy | Photography | Web sites | Photo Retouch
---


Revised November 10, 2001
Copyright © 1999- 2003